NEWS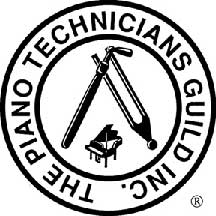 THE PIANO TECHNICIANS GUILD
4444 FOREST AVE.
KANSAS CITY, KS 66106

PHONE: (913) 432-9975

FOR IMMEDIATE RELEASE
PIANO TECHNICIAN EARNS RPT DESIGNATION
SANDY, UTAH — Local piano technician Ken Foster recently completed the requirements to earn the Registered Piano Technician designation.
He becomes one of less than 2,500 people in the world who have completed a series of three exhaustive examinations covering all aspects of piano technology. The examination process includes a written test, covering general knowledge of pianos and piano technology; a technical examination, which includes action regulation and adjustment; and a standardized tuning examination.
"Earning the RPT designation is a huge accomplishment," said Dale Probst, RPT, President of the Piano Technicians Guild. "Ken has shown a commitment not only to piano tuning, but also to customer service by being able to meet any need they might have."
A piano technician for 7 years, Ken is a member of the Salt Lake Chapter of the Piano Technicians Guild and operates a full-service piano business serving clients throughout the Wasatch Front. In addition, to private clients, he also performs piano service for the St. Thomas More Catholic Church.
The Piano Technicians Guild is the world's premier source of piano service expertise. It promotes the highest possible standards of piano service by providing opportunities for professional development, by recognizing technical competence through examinations, and by advancing the interests of its more than 4,000 members.
For more information on Ken, visit his web site at: KenFoster.com
(801) 255-TUNE